Are you looking for the 10 best places to live in Long Beach? If so, this is the perfect place to consider along the coastline.
I've been living in Long Beach for 15 years now and love it. There are many great neighborhoods to choose from in the city.
Long Beach is a coastal city located in Southern California. Currently, over 456,000 residents live here.
It is the 36th most populous city in the United States and it borders Orange County to the south, San Pedro to the west, Signal Hill to the north-ish, and Lakewood to the east. The city of Long Beach is located in Los Angeles County.
Long Beach is an Affordable Housing Market In 2023
let's look at the housing market for real estate. In the chart below, you can compare the average selling prices vs the median home price.
Review the cost of living in Long Beach vs Los Angeles to get a perspective on affordability. The US average is 100 on indices for cost of living. How does Long Beach compare to Los Angeles?
| | | |
| --- | --- | --- |
| Categories in 2023 | Long Beach | Los Angeles |
| Overall | 160.40 | 173.30 |
| Groceries | 101.90 | 104.10 |
| Transportation | 157.90 | 165.30 |
| Utilities | 97.10 | 93.70 |
| Average Home Prices* | $969,956 | $1,686,829 |
| Average Condo Prices* | $533,615 | $976,050 |
Top 10 Best Places to Live in Long Beach
Belmont Shore – when you live on the "Shore", you will be within walking distance of the beach and Los Alamitos Bay. One of the benefits of living in Belmont Shore is the great shopping, dining, and coffee shops on second street.

Naples Island – live on the water in Naples Island Long Beach. There are a series of canals that run within the neighborhood along with homes that are considered waterfront. Picture the streets like Italy. They are narrow.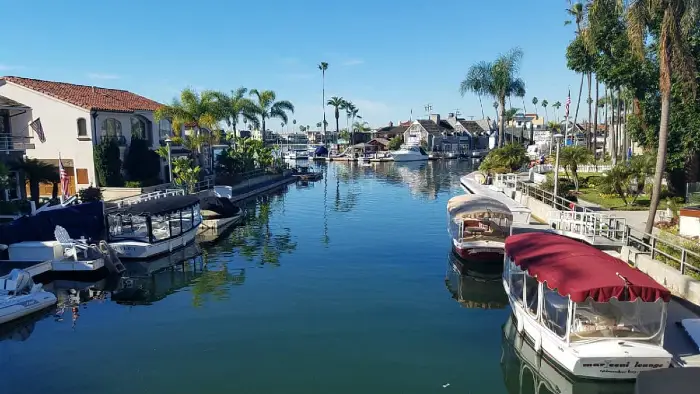 Park Estates – Park Estates best places in Long Beach are best suited for students because of how close they are to CSULB. If you're thinking about moving to best place s best place s to live near the beach then this is the best choice.
Belmont Heights – Come explore the beautiful Belmont Heights district in Long Beach, California! This area is perfect for anyone who wants to be close to the ocean and also near all the action of downtown. You'll find plenty of businesses and restaurants here, as well as a really active community.
Bixby Knolls is located north of the 405 Freeway in Long Beach, CA 90807 is like the homes below. I took this picture one day when I was out looking at homes with a client.
Alamitos Heights is a residential community of single-family homes. There are 707 homes in the neighborhood. Alamitos Heights is located south of Pacific Coast Highway, west of Bellflower Blvd, North of Colorado Street, and east of Park Avenue.
Spinnaker Bay homes are located in a planned housing community, in Long Beach, California; located south of Lyons Drive. Your home could view the marina and have a boat slip or not. There are 231 homeowners in Spinnaker Bay. This Long Beach community feels more private with just one road into the neighborhood. I have some friends that moved into the neighborhood about 6 years ago and love it.
Los Altos is a large neighborhood of single-family homes built in 1947 to 1962. The average lot size is about 6,400 square feet. In 2022, the average selling price in Los Altos is $1,015,308. Homes are selling with 14 days after being listed for sale.
Rose Park – this is a historic area with more than 500 single-family homes. Rose Park Circle is located at the center of E 8th Street and Orizaba. You can find Craftsman-style homes in this neighborhood built between 1910 to 1922.
Marina Pacifica – waterfront condos on Alamitos Bay. This is a guard-gated community of 570 condos.
Last Two Bonus Long Beach Neighborhoods
There are many neighborhoods to pick from. Here are a couple of honorable mentions:
Lakewood Village best place is centrally located allowing people who commute daily an easier time getting where they need to go.
.
Bixby Village Townhomes is one of the best neighborhoods in Long Beach which is best suited for families and professionals that want a cape cod style home with a two-car garage.
Fun Things to Do in Long Beach
The city of Long Beach offers many different attractions for its residents:
If you're thinking about moving to this area, then consider the 10 best places in Long Beach for you! All of these best places to live in Long Beach, California are close to the beach and have great amenities.